Protein Quantification Assays
protein assays | bradford | lowry | bca assay
Protein quantification or estimation assays are one of the most widely used methods in life science research. Estimation of protein concentration is necessary in protein purification, electrophoresis, cell biology, molecular biology, and other research applications. Although there are a wide variety of protein assays available, none of the assays can be used without first considering their suitability for the application. Each method has its own advantages and limitations and often it is necessary to obtain more than one type of protein assay for research applications.
For more information on protein assays, read the technical handbook "Protein Assays Handbook & Selection Guide":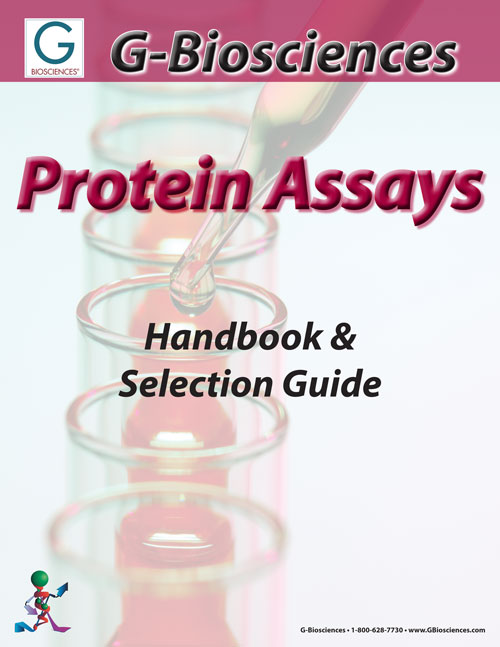 Title: Protein Assays Handbook & Selection Guide
File Type: PDF
Author: G-Biosciences
G-Biosciences offers protein assays and accessories for a wide variety of application. We offer colorimetric protein assays, single tube assays, as well as test strip based assays for rapid analysis. These assays are suitable even for the most demanding research applications.
protein assay selection
The nature of the protein sample is by far the most important consideration for protein assay selection. If the protein sample is in a dry and solid form, it can be easily solubilized in a protein assay compatible buffer. Unfortunately, the majority of protein samples are processed and complex solutions, containing many non-protein, interfering agents. Apart from the nature of the protein sample there are other considerations that will affect the quality of protein estimation. The following section deals with many of the issues that effect the accuracy and sensitivity of protein assays.
Dye Binding Assays | Coomassie Bradford Assays
The dye binding protein assay is based on the binding of protein molecules to Coomassie dye under acidic conditions. The binding of protein to the dye results in a spectral shift.
Copper Ion Based Assays | Lowry & BCA Assay
In the copper ion based protein assays, the protein solution is mixed with an alkaline solution of copper salt. Cuprous ions are detected either with bicinchoninic acid (BCA) or Folin-Ciocalteu Reagent (phosphomolybdic.phosphotungstic acid) as in the protein assays based on Lowry method.
Learn more about specific protein quantification assays: